Over 180,000 Palestinians in the Gaza Strip are packed into United Nations shelters as Israeli warplanes pound the tiny territory of 2.3 million people after their Hamas militant rulers launched an unprecedented weekend attack on Israel.Among them is 27-year-old Sabreen al-Attar. She sprang into action when she heard rocket after rocket whoosh over her farmland in Beit Lahiya just south of the Israeli border on Saturday. She knew from experience that Israeli retaliation would be swift and severe.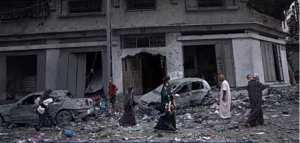 Grabbing her children, al-Attar rushed to one of the dozens of shelters set up in schools run by the UN agency for Palestinian refugees in Gaza City. There, blasts of unprecedented intensity punctuated hours of steadily declining conditions Monday as food and water ran out."When I escape, I do it for my children," she said, her hands trembling. "Their lives rest on my shoulders."
But residents say there is no real escape in Gaza, which has been under a suffocating 16-year blockade imposed by Israel and Egypt. When war breaks out, as it has four times since the Hamas militant group seized power in 2007, even United Nations facilities that are supposed to be safe zones risk becoming engulfed in the fighting. The U.N. said that an airstrike directly hit one of its shelters Sunday and damaged five other schools-turned-shelters on Monday. There was no immediate word of casualties.
In the downtown Rimal area, Gaza City's bustling commercial district with high-rises home to international media and aid organizations, al-Attar hoped she would be safe. Rimal had until then not been an immediate Israeli target, unlike border towns or densely populated refugee camps.
But as the Israeli military went neighborhood to neighborhood with rapid and intensifying airstrikes, the heavy bombardments reached the heart of Gaza City, transforming the affluent neighborhood into an uninhabitable desert of craters. Rimal was also hit by Israeli airstrikes in Gaza's bloody 2021 war, but not to this extent.
Israeli bombs that struck Gaza's flagship Islamic University, government ministries and high-rises in Rimal, starting Monday afternoon, also blew out the windows of al-Attar's shelter, shattering glass everywhere, she said. Life there, crammed with 1,600 others, was full of danger and deprivation but al-Attar said she had no choice but to stay, telling her boys — 2-year-old Mohammed and 7-year-old Nabil — to keep away from the windows.
"The night was very, very difficult," she said Tuesday. "We have nowhere else to go."The bombing in Rimal and the potential risks of sheltering in UN schools highlighted the desperate search by Gaza civilians for refuge, with the territory's safe spaces rapidly shrinking. There are no civilian bomb shelters in Gaza. Ahead of the Israeli military's warning to civilians on Monday that Rimal would be hit, families staggered into the streets with whatever belongings they could carry and without a destination.
In a briefing Tuesday, Israeli army spokesman Lt. Col. Richard Hecht suggested Palestinians should try to leave through the Gaza border crossing with Egypt — a seemingly impractical suggestion. While Hamas officials operating the Gaza side of the Rafah crossing said Tuesday that Gazans who had registered in advance could cross into Egypt, the number of those allowed to travel has typically been small. That has led to backlogs and waiting times of days or weeks, even in calm times.