Properties near Chetwynd under evacuation alert due to Mount Wartenbe blazeProperties near Chetwynd in British Columbia's Peace region are under an evacuation alert after a wildfire discovered Sunday grew to seven square kilometres.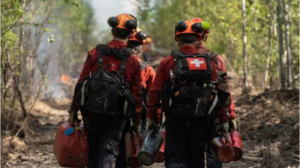 The Mount Wartenbe wildfire is already considered a wildfire of note by the B.C. Wildfire Service (BCWS), meaning it's highly visible or a potential threat to public safety.
It's burning near Lone Prairie, about 20 kilometres southeast of Chetwynd and 80 kilometres southwest of Fort St. John.On Monday, the Peace River Regional District put in place an evacuation alert for two dozen addresses along with properties in the vicinity of Highway 97, west of Chetwynd Pulp Mill Road and east of the Guillet subdivision.
The alert means residents should be prepared to leave their properties on short notice should the fire expand.Over the past month there has been a decrease in wildfire activity across the province, but continued warm and dry conditions in several regions, particularly in the northeast, has maintained wildfire risk. The Mount Wartenbe fire is the only wildfire of note in the province following a period when there were none.
The BCWS says it has deployed 15 firefighters to the Mount Wartenbe fire. Five helicopters are assisting and crews have five pieces of heavy of equipment at the scene.
According to the BCWS, there are still 323 active wildfires in the province, at the tail end of what has been the worst fire season on record for total area burned.At 28,500 square kilometres, this wildfire season has now more than doubled the previous record for area burned, which was 13,500 square kilometres in 2018.